Comms Room & Cabinet Refreshes
At Total Network Technologies, we understand that over time comms cabinets can become unmanageable. Constant re-patching by different members of staff, with any leads that they may have to hand, just to get network devices patched in and operational can leave a knot of cabling that is very difficult to work with.
We provide a complete and tailored cabinet refresh service for our clients in Norfolk, Suffolk and Cambridge, click here for further information or to discuss your requirements in greater detail.

We fully appreciate that the reorganisation of voice and data patching in cabinets can be a huge disruption to your network – so we're happy to undertake any project outside of normal working hours to minimise any interruption to your day to day business.
As part of our refresh service we carry out the following;

Extensive documentation of patching prior to removal/replacement of existing patch leads.
Relocation of patch panels (if required/feasible) to logical locations within the comms cabinets.
Installation of cable management bars (if required/feasible) between patch panel and switches.
If required, the structured cabling can be tested to the relevant standards at this point.
Re-patching of required ports with colour coded, correct length patch leads to easily identify how ports are being utilised.
Testing of devices re-patched to confirm that all network devices and telephones are operational.
Over the years we have conducted many cabinet refreshes ranging from small wall mount cabinets to banks of full height floor standing cabinets, below is an example: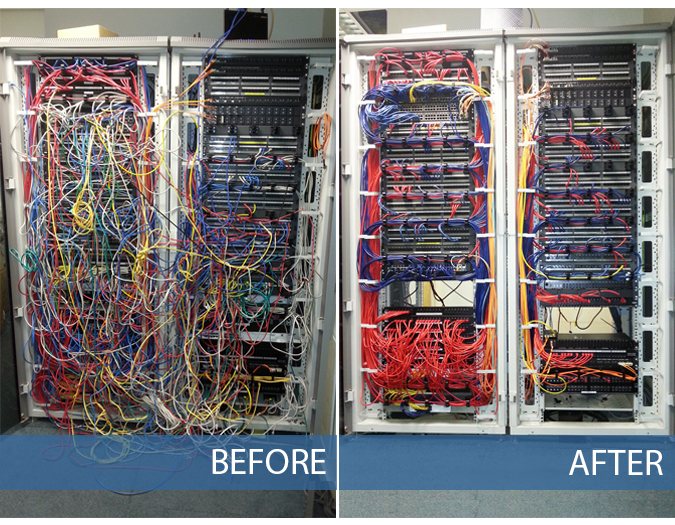 For all tailored comms cabinet solutions, speak to Total Network Technologies today and one of our team will be happy to discuss your requirements and book in a survey of your site by one of our engineers. Our services include:
Install new cabling and install new switches if required
Label ports for easy identification
Strip out and replace existing cabling
Intelligent Infrastructure Management Solutions also available
Reorganise untidy cabling
Redesign inefficient cabinet layouts